Ketch Says
Read this, this and that too!
Sep 28, 2021
How to: Pick the Right Slippers for your feet
When it comes to footwear, we usually don't spend too much time thinking about or considering slippers. But we should. Did you know that as you age you begin to lose the padding in your feet? Oh the joys of aging! This loss of cushioning and just the sheer amount of time you spend on your feet can lead to pain in the ball of your foot and heel pain. So, we're here with a few tidbits to relieve some foot pain and keep your tootsies cozy, comfy, and warm.
Find a style that works for you.
Slippers come in all shapes and sizes – fuzzy bunnies, bears, and even pizza slices and although cute, these are generally more for laughs than anything. Picking a style, you'll actually wear is your first step. Looking for something easy to put on? Try a slipper with an open back that requires zero to little effort to put on. Do your feet get suuuuper cold? Pick a slipper with full-coverage, maybe even a slipper-bootie hybrid. Have the opposite issue? What about an open-toe slipper that let's your feet breath a little?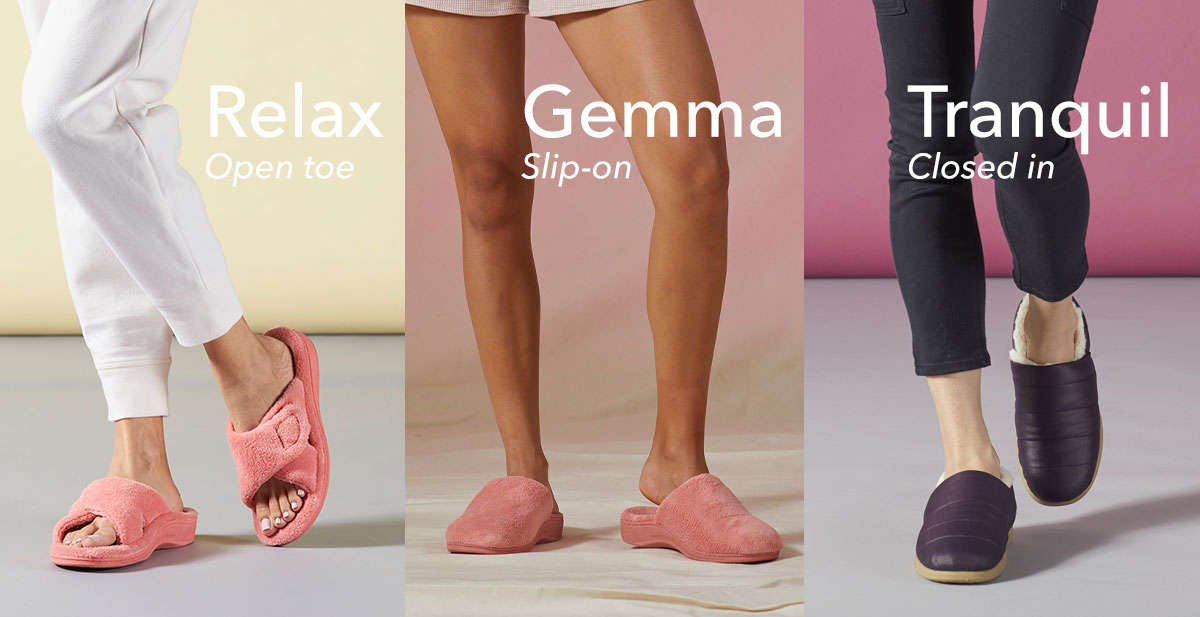 Make sure they have support.
Like we said, novelty slippers are fun and good for a laugh, but they could end up doing more damage than good. It's important for your slippers to have some structure, support and maybe even a built-in orthotic – just like your shoes. Think of all the ways your body has supported you in the past – how about a little love for your temple?
Always wear slippers on hard surfaces.
Not just for warmth! Hardwood, laminate or concrete floors can reek havoc on your feet. Fallen arches, plantar fasciitis and sore feet are often due to improper foot wear and wearing supportive slippers in the house (even office) can greatly reduce the impact of these conditions.
Our suggestion for the best slippers you can find is the Vionic line of slippers. They come in many different shapes and styles and each and every single one comes with a built-in orthotic. They have been a Vionic fan-favourite for years and have been a lifesaver for many foot-pain sufferers out there.
Here are a few things fans had to say:
"Couldn't go a day without them!"
-Nicole
"No more heel pain."
-Renee
"Can't live without them."
-Kim